Working Out After Your Baby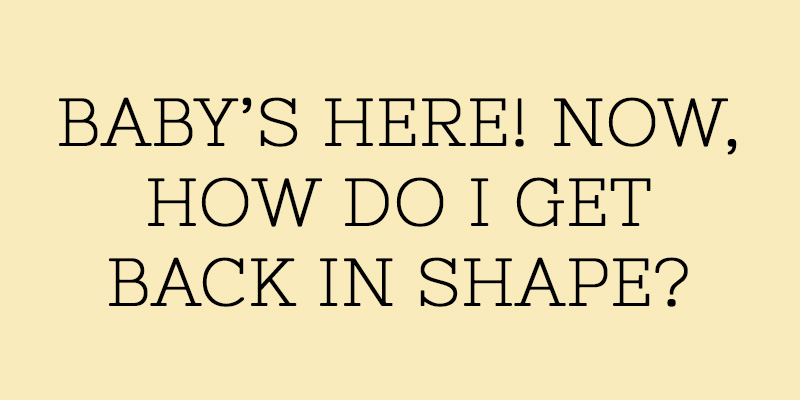 I am a big believer in working out as soon as possible post-pregnancy, but don't worry, I am not talking leaping around the countryside like a gazelle right away (if ever!). Instead, try your best to work in a form of exercise that elevates your heart rate for 20 mins each day. Running is hte easiest and of course cheapest way in my personal experience and is the key to feeling good and getting your figure back as quickly as possible.
Having done this four times over, I find that it affects my milk supply (hello, dehydration!) and let's face it, is virtually impossible on the minimal number of hours you are sleeping between feedings, laundry, sterilizing pump pieces, cuddles (my fave) and all the other important to-dos on the list each day. If you can and want to do more, then all power to you. But if you're like me and 20 mins is all you've got, then stick to it, be proud of yourself and do everything you can to encourage yourself to get it done. It's just 20 minutes after all!
I put together a "make myself run" mix, and I hope it helps you do your 20 minutes today, and tomorrow and the next day!
Fancy (feat. Charli XCX), Iggy Azalea – because you are so fancy and you need to know it!
Love Me Now (Dave Aude Remix), John Legend – because surely your other half is thinking at this very moment how much you look like Chrissy Tiegan, because you're gorgeous.
Starving (feat. Zedd), Hailee Steinfeld + Grey – because let's face it. You are probably starving right now, so rather than thinking about a big juicy slice of pizza, focus on your love for errrr…you can figure it out.
I Feel It Coming (feat. Daft Punk), The Weekend – because you do feel it coming, the end of the run is near!
CAN'T STOP THE FEELING! (TROLLS), Justin Timberlake – because I don't care what anyone says, it makes me happy and even if you are tired, if feels pretty awesome being a new parent.
On Top of the World, Imagine Dragons – because at this point hopefully you are feeling that way, and if not you will be in a few short minutes when this run is finally over.
One Day, Zac Brown – because I love some corn, and the truth is, one day with that sweet baby of yours is all that you need to bring you back again and give you the energy to do this again.
Tags: Exercise, Getting in shape, post-pregnancy fitness, post-pregnancy health
Comments are closed